Why Choose Wood Wallpaper?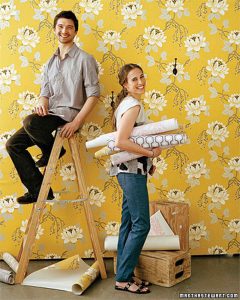 There are many ways to make your home or office walls stand out. One of the best ways to do so is with the use of wood. But, applying wood pieces to the walls of the room is not ideal. It is heavy and makes it difficult to manage. And, wood can be very expensive applied in this manner. A better option, on the other hand, is the use of wood wallpaper. It can add all of the character to the space without the overall complications. And, with so many styles to select from, you will have the ability to transform any space into a stunning place to be.
Choosing Well Makes Sense
When it comes to any type of wallpaper installation, it is very important to get the details right. Wood wallpaper is an exceptional option for many homes. It can add a variety of different textures as well as colors to a room. Choose those with a gray tone for something a bit more subtle. For those who are looking for a wallpaper with more of a natural appeal, choose those with a natural wood color. Be specific. Some of the best products do an exceptional job of helping you to make a special feel more remote and relaxing, but it happens only when you pay attention to the details. Look at the grain lines in the piece. Choose authentic colors.
When it comes to creating a room you love, consider the value wood wallpaper can offer. Designed with a wide range of styles and features, these wallpaper products are very much in style. Yet, they are still statement pieces. Use them when you want to create a simple, beautiful space with an organic feel to it, and you want to do so on a budget.