Painting the exterior: Common mistakes to avoid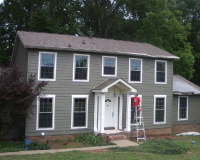 Even with the best house painter in Clarksville, TN, you will still be left with the color decisions if you want to paint the exterior of the house. Granted, every decision you make about your house should reflect your style and preferences. There are a few exceptions though, and the choice of exterior paint color is one of them. This is one of those decisions you are going to have to make with other people in mind. With these instructions, you will never go wrong;
Think about others
One of the most common mistakes most people make is thinking the choice of exterior paint color is completely up to them. In most cases, exterior paint is meant to last long, and in those years, a lot can happen. If, for instance, you are forced to put the house on the market as you move to another location, you will find yourself in trouble is the choice of color is not one that other people like. Many prospective customers will not even look at the house twice. Everyone will be thinking about the extra amounts they will have to spend when repainting the house.
The power of natural light
Think about where the house is and what looks good considering the natural light conditions there. What looked good in one part of the country might not necessarily look good where you are moving to. Without considering paint color, the exterior paint you choose might end up looking washed once it is on the house. To be on the safe side, pick a color that is a few shades darker than what you want. It might be necessary to test out the color by painting it on the exterior and seeing how it looks in the full sunlight. This means painting it on the front and not on the overhang or the porch where there are shadows.
Details
Think about the small details when painting the exterior, like the color of the roof, the window trim, sashes or the mortar matter. It is advisable to match the various elements into a single color scheme.
Everyone wants their repainting jobs to turn out great. If you are in need of quality painting, call (931) 278-1814 today or visit the company website for more details.