Give Your Kitchen a Facelift with New Cabinet Doors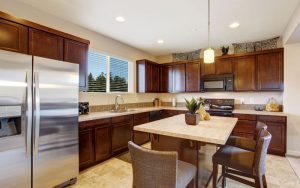 Are you tired of staring at the same, old kitchen? Do you avoid inviting friends over because you're embarrassed by your worn-out cabinets? When most people imagine fixing up an outdated kitchen, they're brain pictures a long project and thousands of dollars going out the door. You don't have to spend thousands of dollars to make your kitchen look nicer. Replacing your kitchen cabinetry doors is the perfect way to give your kitchen a facelift.
Choose a New Design
Is the style of your kitchen just not "you"? The backbone of any kitchen's design is its cabinets. There's such a variety of kitchen cabinets out there that there's sure to be one that fits your preferences. When people walk into a kitchen, they're not noticing the appliances. They notice the cabinets, so you can choose a set that tells the story you want.

Professional Help
If you only focus on replacing kitchen cabinets, you have the budget to ask a cabinet professional for their opinion. Professionals can help you choose a design that blends your preferences and your actual kitchen, so you end up with something gorgeous.
Online Orders
Pressed for time as well as a budget? In this technological age, there are companies who only need your design preferences and the measurements of your cabinets to create the perfect set for you. That means you don't have to waste time out at the store looking at a thousand cabinets. Follow the measurement instructions online and have the cabinets delivered to you.
The kitchen is the heart of the house. It's where you prepare your food and share your meals. It's where you wake up with your morning cup of coffee. You don't have to live with a kitchen you hate because you don't have the budget to renovate. Replacing something as simple as your kitchen cabinets gives your kitchen the facelift it needs to look better. That way, you can love your house again.
If you need kitchen cabinetry doors, contact Lovech Ltd.