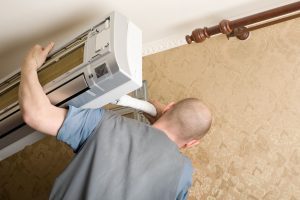 If the summers seem like they are lasting longer, this is true. Summertime weather extends well into September, sometimes even into October. The hot weather can start as early as April or May, which is why you need an air conditioner that is ready to work at cooling your indoor environment. The longer cooling season means a heavier workload for your air conditioner. If even one part malfunctions, the whole system may stop cooling the air.
When your air conditioner stops working, the indoor air gets too hot and humid for your health and comfort. We understand that air conditioners can malfunction any time of the day or night and on any day of the week. We offer AC repair in Carol Stream to restore comfort. If your home includes an infant, a senior citizen or someone with a chronic health condition, air conditioning may be critical to their health and safety. We offer urgent repair services when you need us the most.
Our experienced and skilled technicians are able to complete most repairs in one visit to your home. We have all of the diagnostic tools necessary to find the problem and fix it. Our warehouse is filled with replacement parts made by the original equipment manufacturers. This helps ensure that the part will work correctly in your cooling system. We also provide air conditioning repairs to small businesses throughout the Carol Stream area. Our technicians know that your business relies on air conditioning for the comfort of your employees and your customers, and we offer a quick response time to get your air conditioner fixed on the same day.
When you need a prompt AC repair in Carol Stream, contact us at Blue Frost Heating & Cooling. You can also learn more about our company online at website.