Reviewing the Trends in Kitchen Remodeling in Northampton, MA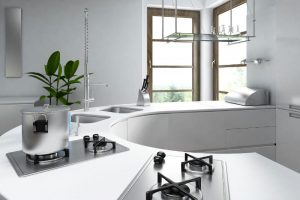 While the white kitchen has been a dominant force in kitchen design for the last decade, added interest is now seen in kitchen decors. Although white is a timeless choice in cabinetry, today's kitchen emphasizes contrasts that you cannot help but recognize.
For example, if you choose to go with white-painted walls and cabinetry, you can cozy up your kitchen or make it more inviting by incorporating dark flooring in your kitchen remodeling project. You may also want to consider gray undertones in your kitchen design, as they often offer a timeless appeal. These types of hues also go with most paint colors. Therefore, you do not have to rely on time-honored and time-worn beige to take on this decorating role.
A Different Type of Centerpiece
One of the trends that seems to be here to stay is featuring a kitchen hood over a stove as a centerpiece. In this case, copper sheeting is used for added impact for kitchen remodeling in Northampton, MA. This type of concept goes well in kitchens that feature brick backdrops and showcase counter cabinets instead of open shelving.
Choosing the Flooring
If you are planning a kitchen remodeling project where you will be preparing and cooking foods extensively, you want to forego the carpeting. Instead, you can make a statement with the right floor tile. Installing a floor with an interesting pattern is preferred over including a backsplash. Think about a quilt-like look for the floor's design.
Where to Go Online for Further Information
If you want to know more about our company and kitchen upgrades, visit us online and schedule a consultation. Find out how you can make the most of your existing kitchen with today's innovative building products and materials. Take some time to explore your visions for a dream kitchen by reviewing the latest in cabinetry, hardware, and flooring.