Make Your Kitchen Design Child Friendly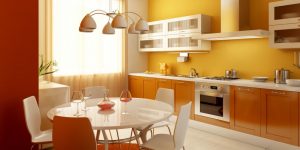 If you have reached the point in your life where you're starting to think about the possibility of having small children, you have also reached the point where you need to start thinking about how you're going to prepare your home for the arrival of the pending child. For the most part this won't take much effort. All you have to do is set up a nursery which can be a lot of fun.
The other room that will need a great deal of your attention will be the kitchen. You need to make sure it's a safe place for your child, not only during their infancy, but also as they grow. Their safety depends on you creating a kid safe kitchen design. Keep in mind that in addition to being kid friendly, you also need to stick to what's probably a pretty strict budget. You don't want to spend so much on the renovations you don't have anything left over to cover the expenses commonly associated with having a child.
Many parents mistakenly assume their child won't be spending much time in the kitchen. This might be true while the child is small, but as soon as they get old enough to figure out to crawl over a baby gate, they're going to be in the kitchen all the time. Not only will they want to be with you, but they're also going to be fascinated by all the things the kitchen contains. Plan on your child, and all the paraphernalia a child drags around the house being in the room with you as you prepare meals and arrange your kitchen design accordingly.
Thing about the places you frequently stand when you're in the kitchen; in front of the fridge, by the sink, at the stove, near the microwave. In these areas, you want to make sure you have enough room you can turn around without tripping over a toddler who will most likely be sitting close to your feet. You also want to make sure the kitchen design has been laid out so you and other members of your family can easily flow around a child who has arranged themselves in the middle of the pathway. Kitchen design experts recommend leaving a minimum of three feet between things like tables, countertops, appliances, and kitchen islands.
You're going to want you kitchen design to be set up in such a manner that your child will be able to easily get into a draw that contains the items they use for meals. Being able to set their own place at the table will make your child feel more adult and teach them self-sufficiency. You should prepare for your child to get into cupboards and things. Put pots and pans at your child's level. Not only will they not be able to hurt these items, but they'll love banging them together.
Kitchen design can be quite tricky. No matter how carefully you planned problems and question arise. If you are looking for kitchen design in West Chester, PA, feel free to seek the expert help at website.