Ideas for Custom Bathroom Cabinets in Port St. Lucie, Florida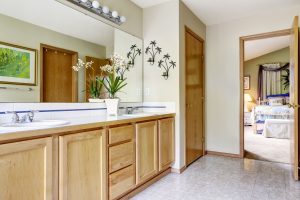 Bathroom cabinets don't have to be the boring, standard variety. Replacing them with custom cabinets by companies like Jay's Floors and More will both enhance the bathroom and provide increased usability. Here are some ideas for upgrading bathroom cabinets in Port St. Lucie, Florida.
If your bathroom has enough space, the first thing you should consider is adding bigger cabinets, more cabinets, drawers, or a combination of all three. Larger cabinets will provide room for things like large multi-packs of toilet paper, extra bath towels, plungers, and other necessities that won't fit into small ones. Extra standard-sized cabinets provide more room to keep cleansers and other smaller items so they are easy to find, yet out of sight when not in use. Drawers make it easy to store cosmetics in an organized way.
Bathroom cabinets are often topped by waterproof counters, but large bathrooms also have room for overhead storage solutions that are more commonly found in kitchens. These are great for large families that need plenty of towels, sheets, or other linens that have no other convenient place to go. Shelf units can also be used for this purpose, but cabinets provide an even tidier appearance.
For small bathrooms, adding more cabinets isn't a viable option. That doesn't mean that there's no room for upgrades. New custom cabinets will refresh these spaces and make them seem less cramped. Simply replacing old, damaged cabinets with new ones that have a nice, shiny finish will brighten the mood tremendously.
The countertop is an important part of most bathroom cabinets in Port St. Lucie, Florida, so it should be considered along with the cabinets themselves. Counter materials range from inexpensive Formica all the way to fine marble, so be sure to check out all of your options. In order to look great, cabinets need to be topped with a material that amplifies the good looks of the finish of the doors and sides of the unit. Counters also need to work with the type of basins you intend to use. Traditional inset basins require large holes to be cut into the countertops, while the trendy ones that sit on top only need small holes for the drain and faucet inlets. Make sure to specify factors like this when you order your cabinet/counter combo so that you don't have any surprises on installation day.