How to Get Your Life Back on Track After a House Fire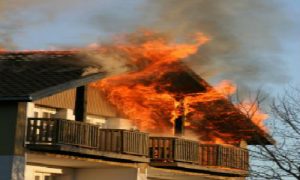 There's no way around it – house fires are devastating. However, at some point you need to think about your next steps. Who do you contact, and who should you call first? What will you do about your pets? Who handles the insurance claims, and what if some of the documents they need were destroyed in the fire? Consider these tips the first steps toward recovery from a house fire:
Your first priority is to take care of YOU
Find a safe place to stay, contact loved ones, and seek medical attention if necessary. If you have pets, make sure they're safe and cared for.
Assess damage
While this part may be difficult, you still must assess the damage and determine its extent and what needs to be done about it. Don't put off this assessment process until later. Conduct it immediately as soon as you're permitted or able to.
Start the claims process ASAP
Contact your insurance company as soon as possible in order to begin the claims process and gather evidence and any relevant paperwork they may need. Don't panic if some documents seem lost in the fire. Many records nowadays are stored electronically, so it may still be possible for you to retrieve them.
Contact a restoration company
Connect with a professional fire repair damage company in Council Bluffs, IA. You'll receive a repair and restoration estimate and a projected timeline.
Take care of yourself
Lean on family and friends for support, and seek professional help if you need it. It's OK to feel overwhelmed. Take things one day at a time.
You're not alone!
For help figuring out where to begin, connect with a fire restoration service as they have the experience necessary to assess damage, create a plan of action, and restore your home back to pre-fire condition. They may even assist with insurance claims management and offer support during recovery. You don't have to go through this alone. Resources are available to help you get back on your feet and move forward after a house fire.
SERVPRO of Council Bluffs is a fire damage repair company that serves Council Bluffs, IA. The teams specialize in providing restoration services for residential and commercial properties that have been damaged by fire, smoke, or water.