Different Types Of Residential Garage Door Openers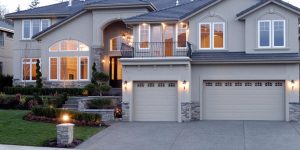 Garage door openers are not new; they have been readily available for many years from various sources. In the past, a homeowner had to choose the type of door opener, the most common being either a chain drive or belt drive.  Although these garage door openers in Westchester, NY are still very much in use, a homeowner now can also choose from a jackshaft opener which has a couple of real benefits.
A basic standard garage door opener:
* Chain drive: This type of opener uses a chain that looks very much like a conventional bicycle chain; it pushes or pulls a carriage arrangement that is connected to a bar that in turn is fixed to the garage door. If this type of garage door opener happens to be installed in a bedroom, such as might be the case with a split level home, the noise and vibrations can prove to be a nuisance. This is not the case with a detached garage as the noise is isolated away from the house.
* Belt drive: The design concept is somewhat like that used in the manufacture of a chain drive unit other than for the fact the driver is a reinforced V-Belt. These style openers are reliable, and they are considerably quieter than a chain drive unit. The only downside is they cost a little more.
Jackshaft opener:
Regardless of what type of garage door openers in Westchester, NY you opt for it is always a good idea to have them installed by technicians with the right tools and knowledge to ensure the job is done right and done safely.
* Jackshaft opener: These types of garage door openers in Westchester, NY mount on the wall directly beside the door. Through a series of pulleys and cables, an electric motor rotates a torsion bar which lowers or raises the door. This type of opener is ideal as it does not interfere with the garage roof trusses and it can be installed in garages with high ceilings.
Garage door openers in Westchester, NY provide you with a safe and convenient way to open and close the garage door regardless of the weather conditions. You are invited to contact the experts; Action Lock & Door Company, Inc.