Benefits of a TPO Roofing System Installation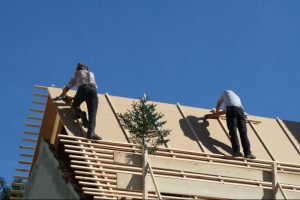 For homeowners who are thinking about installing a single ply roof membrane, which will offer energy efficiency benefits, TPO roofing system installation should be considered. TPO has a number of benefits; however, it can be more costly than other materials. Understanding more about the material can help a homeowner determine if this is the right roofing material for their particular needs.
TPO was first used by roofing professionals in the early portion of the 1990s and is a more efficient and economical alternative that was designed to replace PVC products. It is composed of three different layers, which include:
1. The polymer base
2. The fabric center
3. The thermoplastic polyolefin
Some of the most common fillers used for TPO manufacturing include Metal Oxy Sulfate, wollastonite, carbon fiber, fiberglass, and talc.
One of the primary factors that make TPO roofing system installation so popular for both commercial and residential construction is the fact that while it may be higher in cost than traditional asphalt shingles, it is still economical.
TPO roofing is also manufactured in a way that makes it look stylish on a number of different types of homes. It is available in a number of different colors, including black, light gray and white. Also, homeowners do not have to have a white roof in order to enjoy the energy savings since all the options have reflective properties. The latest technological options allow TPO roofing membranes to remain cool and UV resistant.
When compared to other types of thermoplastic membranes, TPO is resistant to punctures, tears, dirt accumulation, impact and mold growth. It is created to be flexible and allows for a home's natural settling or movement. The reinforced TPO membranes are able to handle the thermal contraction and expansion of a building more effectively than other roofing products, too.
Additional information about TPO roofing can be found by contacting John Bean Roofing. Here home or business owners can speak with industry professionals who understand how to help them get the right roof for their particular home. This is essential in protecting the structure as well as all the personal belongings and residents inside the space.