5 Things That Tell You It's Time for a New Roof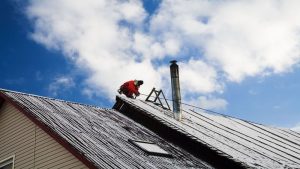 Sometimes, repairs are not enough. Find the difference between a roof that can still be saved through routine checks and repairs, and one that needs to go. Since replacing a roof is costly, you need to be absolutely sure that this is the right decision for your property. Here are the signs.
Older than 20 to 25 Years Old
That's the average lifespan of a roof—20 to 25 years old. If yours is older than that, it won't be long before you need to replace yours.
Frequent Repairs
If you keep calling a roofer for repairs one after another, you could just be throwing money out the window. If the repairs are nothing but stopgap measures, then it's time to consider getting a new one. Start talking to an expert about roofing replacement in Fairfax, VA, to learn more about your options and how to go about getting a new one.
Buckling Shingles
A missing shingle or two isn't a huge problem. But if entire rows of shingles on your roof are buckling or curling, that's a massive issue. It means the shingles are already nearing the end of their lifespan and you'll have to replace your roof much sooner.
Gutters Full of Granules
Shingles that wear out shed granules. These granules find their way into the gutter since they move downward. If there are too many granules, that means the shingles are showing signs of advanced wear. You'll need to start checking out new roofing systems.
Sagging Roof
A sagging roof could lead to other problems. Some of those issues might result in structural damage. That's because the moisture might have gotten inside. Hire a roofer to determine the extent of the problem and fix it before it worsens even more. If you don't, the roof could come crashing down around you.
For more details visit Evergreen Contractors at http://evergreencontractors.com/