Things to Consider When Looking at Granite Countertops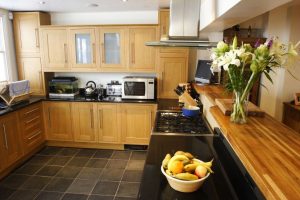 Granite is composed of several minerals, including quartz, mica, silica, and others. There are many other countertops available, including laminates, but none match the distinct beauty of granite. Every granite slab is different. The crystalline structure, the variations in color, and the depth all add to the uniqueness of the material. Many other materials lose their brilliance over time, but granite does not. It will be as beautiful twenty years in the future as it is the day it was installed in your home. Granite countertops in Doral, FL are made from granite slabs, which originate from the four corners of the earth.
Usually, the larger the slab of granite the more expensive it will be. The cost of a granite countertop takes into account more than just the top, it includes the backsplash and edge selections, and in some cases, a granite sink. The normal edge of a slab of granite is a small round, any other edge preparation will cost more. It must be understood by the buyer that granite itself cannot be warrantied, as it is a natural material subjected to natural possible flaws. However, the installer often gives a warranty on the installation.
Granite is resistant to heat, and will not crack when hot pots and pans are placed on it. In cases where the entire kitchen countertop is butcher block, you will invariably see an inset of granite beside the stove. Some materials can cause stains on granite, including wine and mustard, so any spills must be cleaned up immediately. To help with fluid resistance, granite should be sealed when water soaks in rather than beads up on the surface. A sealer is nothing more than a coat of clear floor wax.
It is important to take care of granite countertops in Doral, FL. Although they are tough and extremely durable, they can crack or chip if an object is dropped on them. Although most installers will try to avoid seams when they install the granite, if a piece has to be replaced, there will be a seam.
All in all, there are few materials that can even come close to granite when it is used for countertops or flooring. Lux Stone is proudly serving the nearby areas with services of the best quality natural surfaces from Marble Stone, Travertine Stone, Limestone.