An Easy Way To Save On Granite – You Might Have Never Thought Of This!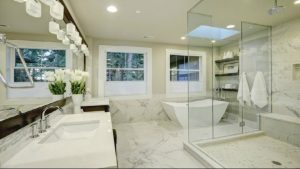 If you are considering buying granite for your home and you would like to save money as well, you can achieve both! When a company is finished with a larger job, it will usually have granite leftovers. What do they do with the extra granite? They sell it to other customers for smaller projects. You can find a company in Plainfield with granite remnants for sale.
Why Granite Remnants?
You should choose the remnants of granite in Plainfield because it can be a lot cheaper. Even though they are smaller pieces of granite, they are still very durable and made of high quality. These smaller slabs of granite are great for smaller projects. Some smaller projects might include coffee tables, vanities, and bathroom counters. You can use these smaller slabs for larger projects, but you must use multiple ones. Using multiple remnants can cause inconsistencies within your countertop. Some people might like the inconsistencies because it will make their counter unique. It all depends on your own personal preferences.
How to Choose the Best Granite Remnants
You will want to talk to a granite supplier to find the best slabs for you. You will want to ensure the quality is still the same as their larger slabs. You will also want to make sure you are getting a better price because it is leftover from other projects. The supplier you visit should offer to cut, detail, and polish your granite if you would like. Cutting it, even more, can customize it to fit wherever you need it to go. Polished granite will also have a nicer look to it. You can try to cut the granite yourself, but you might not receive the same results as a professional. When it comes to cutting and making the edges just right, you should hire someone to do it for you. Visit Best Buy Carpet and Granite online for more information.